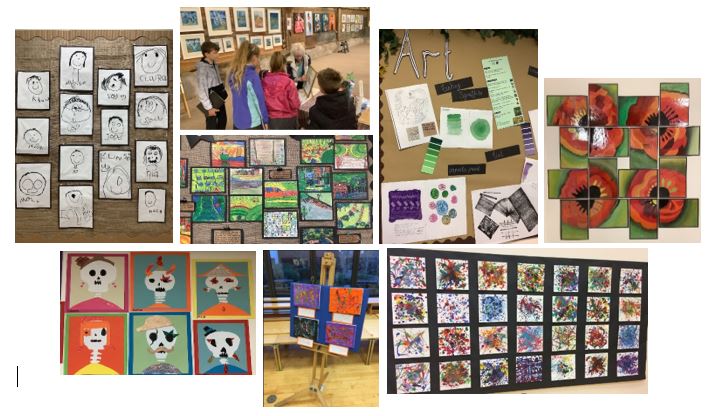 Art and Design
At Abbots Green Academy, we believe that pupils should master Art and Design through effective teaching of the key areas: making, generating ideas, formal elements, knowledge of artists and evaluation of their art. Our Art curriculum is organised into blocks with each block covering a particular set of artistic disciplines, including drawing, painting, printmaking, textiles, 3D and collage. Vertical progression in each discipline has been deliberately woven into the fabric of the curriculum so that pupils can revisit key disciplines throughout their Primary journey at increasing degrees of challenge and complexity. In addition to the core knowledge required to be successful within each discipline, the curriculum outlines key aspects of artistic development. Each module focuses on developing different aspects of these competencies.
We encourage our pupils to enjoy, explore and appreciate the work of great artists, craft makers and designers and understand the historical and cultural development of their art forms. We encourage pupils to think critically and use necessary vocabulary to express their understanding and appreciation of human creativity. By creating original artwork of their own, documenting their artwork in their sketchbooks and exploring other sources of inspiration for their own artwork, pupils generate their own artistic learning journey.
Aims of the Art and Design Curriculum
The national curriculum for art and design aims to ensure that all pupils:
produce creative work, exploring their ideas and recording their experiences
become proficient in drawing, painting, sculpture and other art, craft and design techniques
evaluate and analyse creative works using the language of art, craft and design
know about great artists, craft makers and designers, and understand the historial and cultural development of their art forms.